0
You are invited, to a Birthday Bash like you have never heard before!…
Come and join:
DJ Dazza
DJ EXHODUS
Richie@Random
Drewsta
and our newest and giggliest family member:
Suzy P
On what will only be classed as, the best 1st Birthday Bash you have ever heard…. possibly 😉
All the DJ's are in, all the music will be great and non-stop from 12PM GMT till Sunrise!
Sunday, 7th October 2018 – Live DJs starting at 12pm! be here, listen in and join our free chat box.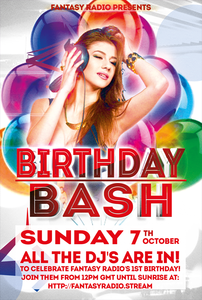 How to listen ? (for PC / Laptop Chrome and Firefox Browsers)
If the tunes are not auto-playing for you, just click the play button at the bottom of the website or, the play
button on the top right hand side.
If you have the free chat room open, you can use the Pop-UP Player, by clicking the link on the top of the chat page.
A new, and small window will pop open and sit on top of the website. or alternatively, just have two separate windows open, one for the main site (the music) and another tab or chat.
— same process as above for Mobile Phone / Tablet users. —
Google Chrome Browser Extension:
If you are using Chrome Browser on Laptop / PC, you can install the FREE Crash FM extension, once installed, click the drop down list, select Fantasy Radio and click Play 🙂
Click this link to get it from the official website.
FREE Android Radio App:
Like all good Radio stations, we have an Android app 🙂 and yes, it is free!
Click this link to get it from the official website.
Alternative websites for tuning in.
If you wish to listen to Fantasy Radio on an alternative website (not sure why you would want to) you can do so via these options:
Crash FM – link
Internet-Radio – link
Live Online Radio – link
Streema – link
vTuner – link
How to Chat with other user ? (for PC / Laptop Chrome and Firefox Browsers)
On the main site, click the LIVE CHAT link on the menu bar.
Sign up for free, with your email address and your own password.
It's that easy 🙂
NO Data of yours is stored.
If you lose your password, you will need to create a new account and contact one of the admins to delete your old account.