Bangulo is a multi-instrumentalist composer based in California. While he already enjoys many different genres of music, he is always exploring new genres to draw inspiration from in order to write and compose new material! His current projects include composing Synthwave music, a downtempo, ambient electronic project inspired by the Voynich Manuscript, and a solo guitar instrumental album. He is also working with an independent mobile game developer to make a funk and jazz soundtrack.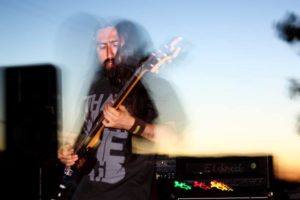 Bangulo's previous works include three full releases and one single with his Melodic Death Metal band Otono, a remix of Elsiane's song titled "Underhelped" (Trip Hop), adding guitar and making a remix of A'gun's "Electronic" (Electro Freestyle), and currently, a five track EP with the Single "Night Wave" with 4 remixes included (Synthwave). He has also been busy publishing YouTube video covers and remixes showcasing his guitar playing abilities over electronic, hip hop, metal, and shred guitar tracks. For some of the existing songs, he has been adding additional instruments. Bangulo's love of music doesn't stop there, he also enjoys composing orchestral tracks; some of which are used for intros in songs performed by his band, Otono.
You will be hearing more from Bangulo in the future as he is deeply focusing on his solo career. During this time, he is gathering inspiration to use towards inspiring others while he continues to push genre boundaries as a solo artist.
https://www.facebook.com/BanguloMUSIC/
https://bangulo.bandcamp.com/releases
 Featured  Sunday  Selection  26th  January  2020