Bif Naked is a Gold and Platinum selling Rock Star, Best-Selling International Author, Hit Songwriter, International Performer, Human and Animal Rights Advocate, Music Producer, Artist Manager and she is arguably one of Canada's most recognized and well-loved celebrities.
For the entirety of her unbelievable career, Bif has documented her journey in a deeply personal way — covering topics that allow her truths to be a source of empowerment and in alliance with her dedicated fans.  When asked about her famous optimism, Bif shares that she believes in everyone's ability to move forward, taking care of each other, and getting stronger together. "I believe in the goodness of people.  I am grateful for each person I have ever met, from the guru in the street, to the dude in the mosh pit, to the patients I meet in the cancer wards. Everyone is my Teacher."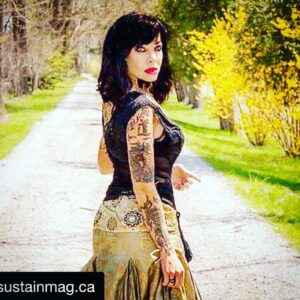 Though she is now officially a "Cancer Survivor", Bif continues to advocate for other patients. She has remained committed to her relentless schedule, including having proudly sat on the City of Vancouver's Women's Advisory Committee, volunteering weekly with vulnerable people who ask for her and writing a blog for the Huffington Post. Bif was a contributing writer to The Globe & Mail's Health columns, and has her poetry read and published frequently.
Her work as a public speaker has taken her to conferences centred around a wide variety of topics, including women's empowerment, wellness, raw vegan food and navigating winding road of Breast Cancer.  The latter is not only a topic personal to her own breast-cancer journey, it is clearly dear to her heart."I enjoy speaking directly to health care professionals regarding patient advocacy, and to patients and families who are surviving and thriving.  They are all my mentors- they inspire me." Many of her life experiences continue to astonish audiences around the world, as Bif's storytelling style intoxicates the listener. But also, her lyrics provide the guide map to her life's journey. An unforgettable woman, performer, and activist, Bif Naked leaves everyone feeling like they have been kissed and hugged, and as though they, too, are wearing her Tango Shoes to dance through life!
Featured  Sunday  Selection  14th  June  2020