Crimson Medici is a UK Triphop / Electronica band based in Folkestone Kent established in 2018.
Nick is a songwriter / composer who has been a member of BASCA for over 30years. Nick was given a Roland Sh101 synthesiser when he was just 12 and since then has been fascinated with music technology, complex soundscapes and synths.
Wendy, who is originally from Anglesey, North Wales, has sung and performed for many years. Wendy's pure tone vocals along with perfect natural 3 part harmonies enables Crimson Medici to create beautiful modern and original songs with 'old school' melodies. You wont find auto tune sounding vocals anywhere that's for sure!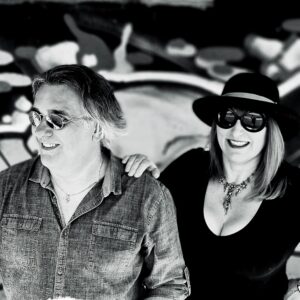 Together, Nick and Wendy have performed together in various bands but since 2018 have been developing and perfecting that distinct Crimson Medici sound.
Crimson Medici are currently writing their debut album entitled 'It's Never Too Late"'. This is aimed for scheduled release in November 2021. On the album will feature songs like the triphop inspired Alone to the anthemic Survivor and album tracks called Dreams, Its Never Too Late & Spellbound.
2020 was a challenging year for all, but it's a year where Crimson Medici found their public sound and voice.
http://www.crimsonmedici.co.uk
http://www.facebook.com/crimsonmedici
http://www.twitter.com/crimsonmedici
Featured on  The  Sundaytrack 31st  January  2021