The Reverent Cavaliers music is a fantabulous blend of indie rock sounds that serves up a lyrical message that is both upbeat & encouraging.
The Reverent Cavaliers consist of husband & wife, Rick & Trish Hammond, their nephew Dustin Briones, & bassist Aubrey Shamel. Their songs mix hard rock with pop rock, & little Americana.  Imagine an audio meld of Foo Fighters, Lenny Kravitz, & Jack White's various bands.  2017's live performances included the band's 2nd annual show at Nashville's BB King's.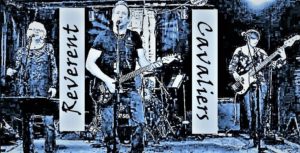 Other note-worthy shows have included Nashville's Spring Water Supper Club ("one of America's top 10 dive bars") where they were offered a weekly slot.  They truly enjoy their quarterly shows at the Nashville Rescue Mission in support of NRM's amazing effort restoring Nashville's homeless.  Since early 2017 the band's music has charted on radio stations around the world over 80 times, including 30+ times in the top 10, & 6 times at #1. In addition, 4 of their songs have been added to various compilation CD's, & licensing deals.  In early 2018 Nashville Entertainment Weekly, who has interviewed such well-known acts as Cheap Trick, and Steven Tyler produced a 10-minute profile of The Reverent Cavaliers on their YouTube channel. Also, in early 2018 they signed a 2 year licensing deal for their full song catalog with Selective Records. As 2018 wrapped up their single "120" charted at #1 for two weeks in the U.K. In 2019 they found their song "Chattanooga TN" had charted on a Country chart in Los Angeles.   You can connect with the band on Twitter, Facebook, & Instagram, & find their music is available online at I-Tunes, Amazon, Bandcamp, etc.
Featured   Indie  City 15th  January  2020