Tough On Friday
Tough On Fridays is an Alternative Rock band from Texas that holds everything that defines female – they are adaptable, brave, strong, and TOUGH.  The band consists of Caleigh (vocals, guitar) and Kelly (bass, vocals).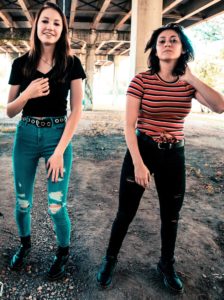 When you look back in history, the bands with the most passion and realism within their music and vocals are the ones whose songs became engraved in your brain. Tough On Fridays is that type of band today.
Their latest EP, SELF DIAGNOSIS is quickly gaining momentum and turning the heads of both fans and rogue listeners.  Featuring six songs that speak to the masses and translates over as pure concepts, this EP positions Tough On Fridays as professional contenders in the business of music by clearly defining their mission – to make music that's unapologetic, carefree, trailblazing, and unmatched.
https://www.toughonfridays.com.
Featured   Indie  City  Wednesday  22nd  January  2020