Yur Mum is a two-piece rock band based in London, UK. Formed by vocalist and bassist Anelise Kunz and drummer Fabio Couto.
The band's debut album, 'ROAD RAGE', was released by Flicknife Records In the Spring of 2018, followed by an extensive international tour including the UK, USA, Brazil, Ireland, France, Belgium, Austria, Hungary and Czechia.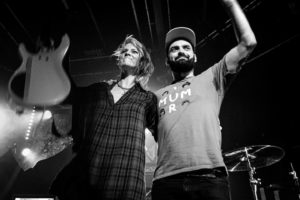 In 2019, Yur Mum self released the EP 'Ellipsis', which includes the single 'SWEATSHOP', featured by Tom Robinson on BBC 6 Music.
With over 200 live performances to date, Yur Mum has become notorious by their energetic and incomparable live performances.
Influences : Musicians with real passion and attitude.
Featured   Indie  City  12th  February  2020