Bill Minnery and Brad Bridges — Scoobie & Shaggy, have been rocking in bands and countless shows since 2006. They formed the ever-remembered ROUGH JUSTICE, toured together with UNIVERNIA and now are a formidable and oddly-rare duo of drummer and guitarist going by the simple yet catchy name BILL and BRAD. They have an arsenal of original progressive rock tunes with major influences coming from Van Halen, Metallica, Dream Theatre and Jim Hendrix. Apart from their original face-peeling tunes you will hear covers from Van Halen, Metallica, Led Zepplin, the Beatles, White Stripes, Elvis, AC/DC, Metallica, Jim Hendrix and many more. They have plenty of material for a full night of serious rock in any setting.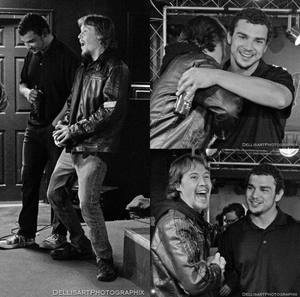 https://billbradband.webstarts.com
https://www.facebook.com/billbradband/
https://twitter.com/billbradband
Bill & Brad join us in  Indie City Wednesday 9th October 2019  …  and  also  as  members  of  Pop-Rock band Sivle  on  the Sunday Selection 13th  October 2019.