DRES_  say ….
We are a band from Houston, Texas.
We were brought together and built upon a foundation of "good vibes," and
"individuality."
No two of us are the same.
Where we come together is the mutual understanding of each other's differences and our undying passion for music.
Our music is like an adventure; a story; a chronicle of our experiences and emotions put into melody and rhythm for all to relate and/or
sympathize with; in hopes of sparking a flame in another's heart.
We are not "genre'd" to one genre and are willing to experiment
with all sounds and types of music.
We are Dres_. We are an experience.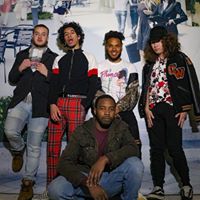 https://www.facebook.com/wearedres/
http://www.wearedres.bandcamp.com