Echotape come from the south of England. But they are a band of the world. The group has toured Europe, played a string of dates in America and appeared at sold-out shows on several visits to Russia, where they played to a crowd of 15,000 at the V-ROX festival in Vladivostok. From Hollywood to Holyhead, Moscow to Madrid, they have won over heads, hearts and feet with a high-energy show that works brilliantly, both in the rammed clubs where they have made their name and on the big open stages that they increasingly find themselves heading towards. Like an English version of Kings Of Leon or a faster, more modern iteration of the Vaccines, Echotape bring vigour and swagger to songs freighted with a gilt-edged, modern pop-rock magic.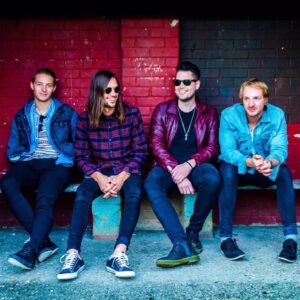 "I've always pictured us playing on big stages," says singer, songwriter and
guitarist Marc Burford. "We've got a big sound. And the lyrics are made for
lifting people up. At festivals, I love getting everyone involved and just making
people feel better – just giving the crowd a burst of pure energy and blowing
them away with the feeling of the moment."
The band comprises Marc (named on his Mum's insistence after Marc Bolan) together with his brother Mike Burford (drums), Dan Bowman (guitar) and Joe Stickland (bass).
https://www.facebook.com/Echotape/
https://twitter.com/echotapeuk
Featured  Indie  City  10th June  2020