Would YOU like £1000 for FREE ? of course you would, and by entering with the chance to win, you also show support for Fantasy Radio 🙂 it's a win-win.
Here's what you need to do!
Go to https://snatchthe.cash [or click here] (using your android or apple phone)
Install the Snatch game (it's like Pokemon GO but with REAL prizes in the boxes)
Get your FREE Referal Code and advertise it for all to click.
(the top referer wins £1000 each and every month)
EXPLORE
Search the virtual world for 1000s of parcels, all containing real prizes.
SNATCH
Snatch parcels from other players and defend your winnings.
REVEAL
Open your parcels to see what you've won! It could be a deposit on a new house or a free case of beer. You never know what's in your next parcel…
ENJOY
Snatch as many parcels as you can to win the best prizes from the brands you love.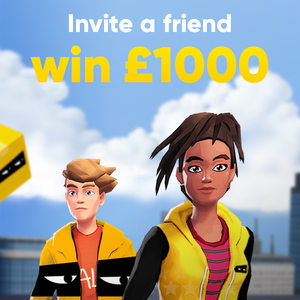 The referral leaderboards are reset and the month has begun!
You have until October 4th to get as many new referrals as you can, to try and win yourself £1,000!
Don't forget we also have the prize draw, anyone who refers or is referred could bag themselves £1,000!