Fremmand means stranger in Faroese referring to the themes in a lot of the songs, based on the feeling of alienation as well as themes of loneliness and isolation. Lyrically the songs are both in Faroese and English. The music is exploring the tension between dreams and desperation, and draws a line to early goth and post punk, but is also forward looking. Fremmand is fronted by the charismatic lead singer Jana Hjalgrimsdóttir, who with her all-in attitude is like the volcano Vesuvius erupting.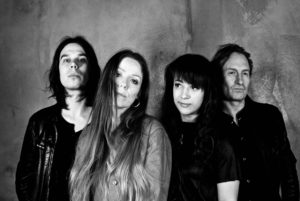 Over the years, Fremmand has grown a close relationship with the american alternative rock trio, Black Rebel Motorcycle Club. That has led to touring with BRMC in both Germany and Denmark. Singer and guitar player Peter Hayes has joined Fremmand on stage at several shows, for the song "Holding on to Love". A song from the debut album that Pete also plays the guitar on.
For the past year Fremmand has been busy tracking songs for a new album, that will feature guitarists Carlos Alomar (Bowie) and Richard Fortus (Guns & Roses), as well as scoring producer Jason LaRocca and electronic artist Null+Void.
Fremmand's line up is Jana Hjalgrimsdóttir on vocals, Tinna Tótudóttir on bass, guitar player Sigmund Zachariassen and drummer Tobias Weltzer, who is also producer for the band.
https://www.facebook.com/fremmand/
Featured  Sunday  Selection 24th May  2020