"So dirty, yet oh so sweet!"
As lyrics from lead vocalist Dacoda Lux declare in their
new single entitled "Jaw Breaker", Ivory Picture Story is
just that, an intoxicating amalgamation of endless sounds
and possibilties the rock genre has to offer.
Mixing the grit, and raw energy from the late 1970s New
York punk scene; ala CBGBs groups such as Blondie and The
Ramones with the infectious dance grooves of 1980s
monoliths INXS and Madonna, Ivory Picture Story have
created a sound uniquely all their own.
Formed in 2017 by husband and wife team, Lead
Vocalist/Lyricist Dacoda Lux, and Guitarist/composer Davy
Vendetta, Ivory Picture Story have made it their mission to
carve their name beside the rock giants that came before
them, and pave the way for a new era in the rock n' roll.
Now joined by bassist Daemon Fane, Ivory Picture Story has
set out to bring you a live musical experience that is
riveting, jarring, and above all REAL!
So be written in the story, and dare to live loud!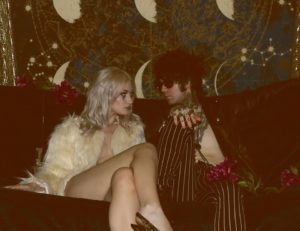 Band Members:
Dacoda Lux – Lead Vocals and Lyricist/Composer – Co-founder
Davy Vendetta – Lead and Rhythm Guitars, Composer – Co-founder
Daemon Fane – Bassist
Spookie Rollings – Drums
https://www.facebook.com/ivorypicturestory/
https://twitter.com/IvoryPictureS
Featured  Sunday  Selection   24th May  2020