No nonsense rock and roll …A three-piece punk band from Chester, UK. They've already made a name for themselves in their home town and, with a string of gigs across the North West under their belts, the future looks bright.
Inspired by the spirit of 1976 and the dissatisfaction of modern music and life in general. Playing together as a three piece since March 2019, PINT + BLISTER have already caused a stir in their home town of Chester and are branching out, infecting towns and cities with their tounge-in-cheek vocals, hard hitting guitar riffs and some powerful drum beats. This trio take up the stage (as well as every other part of the venue).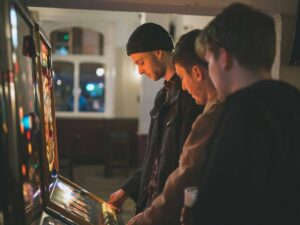 With their debut release, Angry Machine, the boys define themselves perfectly as a band inspired by the best of the 70's; loud, fast and up for a good time.
https://www.pintandblister.com/
http://www.facebook.com/PintandBlister
http://twitter.com/pintandblister
Featured   on  The  Kay  Show   16th  December  2020