28 Double are a 5 piece, high-energy Hard Rock/Groove/Metal band from Derby. Taking influences from bands such as Alter Bridge, Down, Black Stone Cherry and Clutch (to name a few), the Double bring together groove, catchy melodies, intoxicating solos and driving heavy riffs bundled in a fresh modern package!
Formed in 2014 by Rob Tallant (Guitar), Josh Woodhouse (Drums) and Nick Ward (Bass 2014 – 2015, Vocals 2015+), 28 Double first took to the stage performing their heavy and raw sounding riffs around the Midlands and set to work on the debut EP 'Freedom's Key' released in 2015 .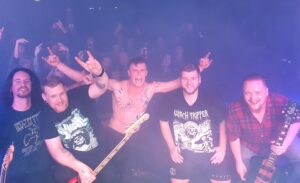 After the release, Nick made the switch to vocals which brought a new sound and higher energy into the band, leaving room to introduce Kieran Agnew (Bass 2015-2017, Guitar 2018+) into the 28 Double family after being in a previous band with Nick and Rob!
2017 saw the Double's 2nd release 'Risen'. A hard-hitting EP and music video that encapsulates 28 Double's post 2015 sound! Gav Archer (Bass 2017+) also joins the band and they continue to gig regularly and tighten the live shows! Getting involved with S.O.P.H.I.E Foundation fundraisers and opening for Tribute acts like Hi-On Maiden refined 28 Double to a high energy rock show.
http://Facebook: www.facebook.com/28doubleuk
http://www.twitter.com/28double
http://www.instagram.com/28_double_band
Featured on Sunday  Selection  22nd November  2020