The fundamentals of 'The Burning' lie in the undeniable power and emotion of rock 'n roll.
The fire first ignited in the 1990s. Seasoned guitarist and song writer, Steve Kay-Clough, made a choice to unleash some serious musical mayhem on the general public and share a big piece of his passion that burning inside since he was a young man.
Although the line-up has changed over The Burning's 20-year career, the passion to present an uncompromising set of songs and create a captivating stage show has always been in the forefront for the members.
'Headed to Hell' is The Burning's second studio album, recorded at B# Studios and produced by the legendary John Paul de Stefani. It's taken three years for the band to complete. But much thought, care and love has gone into the writing, arranging and producing of these recordings. The Burning's approach to writing these songs was to incorporate the styles that they grew up listening to – to create a nostalgic, yet uniquely fresh sound.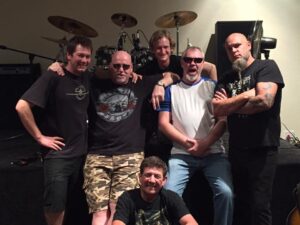 Band Members
Steve Kay-Clough – lead and rhythm guitar
Peter Brück – lead and rhythm guitar
Kyle Shoesmith – drums
Derek Newman – bass guitar
Glenn "Scarthroat" Unger – vocals
http://Facebook: https://www.facebook.com/theburningclassicrock
https://www.instagram.com/the_burning.5/
Featured   on  Sunday  Selection  22nd  November  2020