Clödie is a rock formation led by Klaudia "Clödie",  who  has   a  predatory and unusual voice…. singer and frontwoman, a band leader, composer…
Klaudia on stage is a volcano of energy. Her characteristic timbre, charisma and positive energy during live performances captivate the audience.
Clödie is the 80s rock sound with a touch of modernity. Freshness and enormous spontaneity on stage make the band find a common language with the recipient as soon as they enter the stage. The frontwoman's temperament and spontaneity of all musicians evokes unprecedented interaction with the audience.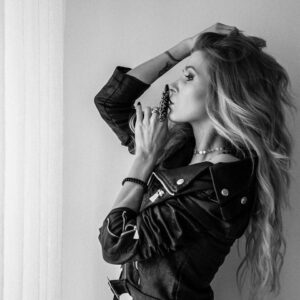 The band has recently become famous for its acoustic version of the cover Zombie – The Cranberries,
Clodie with the song Zombie 07.01.201
Currently, the latest single "Devil in disguise" saw the light of day, which can be heard on streaming services such as Spotify, iTunes, Deezer etc .. and the premiere of the video on YT took place on January 13, 2019.
The Clödie team also created an innovative arrangement of the Meluzyna cover over 1.3 million plays on YT.
We invite you to follow the team's next achievements.
Website: https://clodieofficial.pl/zespol-clodie/
YouTube: https://www.youtube.com/user/clodieofficial
Featured  Sunday  Selection  15th  December  2019