Based out of Rochester, MN, 9th Planet Out is a current rock group that hit the scene hard in 2018. After the release of their first album, 9PO begin packing local venues and making a name for themselves. Quickly, the band started playing small arenas and supporting acts like Skillet and Red Sun Rising.
Following a successful 2018, UltimateGuitar.com named 9th Planet Out a top 10 upcoming opening act for major tours. A 2019 spring U.S. tour with All That Remains and Unearth elevated the band to new levels. Shortly after, the boys shared the stage at Rock Fest with national acts including Static X and Nonpoint. 9PO finished their summer with several large festival style shows supporting Three Doors Down, Sevendust, Black Stone Cherry, and a variety of other household names.
9th Planet Out has their eyes set on a new EP release in March 2020. With the recording process underway, the band is confident that this EP will help launch them to the forefront of the music industry.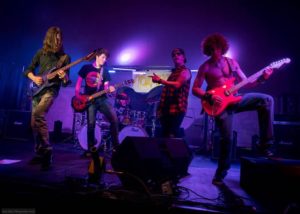 Band Members
James Robinson (Vocals)   Josh Kulack (Guitar)
Dylan Bennett (Guitar)   Cole Ebertowski (Bass)
Clay Ebertowski (Drums)
https://www.the9thplanetout.com/
https://www.facebook.com/9thPlanetOut/
https://twitter.com/9thPlanetOut
Featured  on  Sunday  Selection  19th  April  2020