A Permanent Shadow is a band for want of a better description. Its only fixture is CP Fletcher who for the recording of the record surrounded himself with a rotating cast of musicians and producers. A name that refers equally to areas of the moon untouched by sunlight, the after effects of nuclear disaster and human skin
peculiarities, for the band's founder it represents melancholy, nostalgia and other sentiments usually traceable on the darker side of human life.
A drummer in a succession of unsuccessful bands, after another stint in a band that would go nowhere at all, CP decided that enough was enough and turned his own musical ideas and fragments into songs, with the help of Albert Català, a classically trained piano player.
The finishing touches in the studio were provided by renowned producer Valentín Nieto. The album was recorded in Barcelona over the course of several months from Spring to Autumn 2018, with Albert Català on piano, synthesizers and keyboards and Valentín Nieto covering guitar, bass and additional keyboards. Musicians
from the local Rock and Jazz scene contributed additional instruments and backing vocals.
The music is a blend of old and new, the songs drawing from the likes of (in no particular order) David Bowie, Iggy Pop, Lou Reed, Scott Walker, Gary Numan, Ryuichi Sakamoto, David Sylvian and Nine Inch Nails as well as more recent artists like Sharon Van Etten, White Lies, Editors, Interpol, LCD Soundsystem and Franz Ferdinand, encompassing Post Punk, Funk Punk and Synth Pop.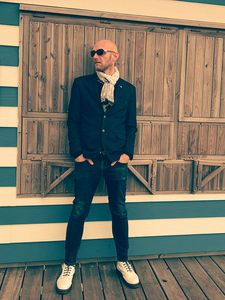 http://www.apermanentshadow.com/
https://www.facebook.com/apermanentshadow
https://lnk.to/APermanentShadow_SongsOfLoss
Featured 24th November  2019