I'm Maurizio Parisi, aka Red Morris, class 66 rock guitarist from Brescia.
Already  in childish age I was fascinated by those noises that could be traced back to a rhythm, without however associating them with music, but the presence of a beat rather than a melody already gave me emotions.
This feeling of mine towards melodies grows more and more and I spent a lot of time creating improbable drum sets with pots, bottles, pot lids, empty cans and with everything you could beat with sticks to give life to a rhythm.
 As a teenager I attended four years of classical school, and then decided to abandon the classical guitar and undertake the study of the electric guitar.
Santana, Pink Floyd, Led Zeppelin, Cream, were just some of the greats with whom I spent whole days attached to the radio and my guitar hoping to hear  their pieces so I could imitate them with my beloved six strings.
 Currently after various militancy in cover band groups and collaborations with artists of all kinds, I dedicate myself to the composition of unreleased rock songs to propose to the modern music scene.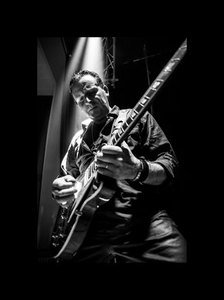 Featured on the  Indie City   27th  November  2019