Formed in Toronto,Ontario Canada in the summer of 1992..
Bedrokk began as a instrumental-rock outfit featuring members of numerous musicians in and around Toronto. Prompting a change of direction signaled by the introduction of vocalist Robbie Brennan. In 1995, the new-look Bedrokk debuted their first CD entitled "EVOLUTION" which led to BEDROKK
BEDROKK members
Damian Arokium – Guitar/Vocals  …who  has  toured  with  with: Prince , Amanda Marshall , John Mellencamp , Sheryl  Crow  to name but a few … and  has made TV numerous  appearances  ….
Phil Naro – Lead Vocals/Guitar….who is  Daytime Entertainment Emmy Award winning performer for singing the theme song for the cartoon "6Teen", as well as in internationally acclaimed composer, singer, songwriter/producer and guitarist and  best known as the front-man for Billy Sheehan's band, "Talas".
Beany – Bass/Founder of Bedrokk… Originally from Oakville,Ontario and  THE founding member of Bedrokk. which toured throughout Germany as a support act for SAGA and Alannah Myles. In the early years his band "CHESHIRE CAT" had the pleasure of sharing a stage with bands such as Rush, Luke And The Apostles and Lighthouse.
Steve Negus – Drums ….
Our newest addition is a Canadian drummer who was a member of the progressive rock band Saga for twenty-six years.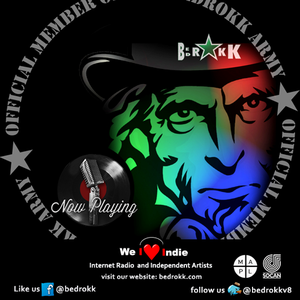 featured on Indie  city  20th  November  2019