Formed in late 2017, Cottonmouth have spent the time given to them crafting their sound and solidifying a great line-up of talented musicians with the ability to write catchy and solid Hard Rock songs. With original material that meets many inspirations, Cottonmouth provide soaring leads, dynamic vocals and thundering rhythms that deliver a great live performance in any venue.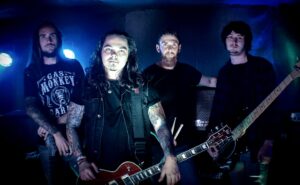 Band  members
Jack Adkin – Rhythm Guitar & Lead Vocals
Dale Preston – Lead Guitar
Liam Gallagher – Bass Guitar & Backup Vocals
Daniel Baldock – Drums
Written during the worldwide pandemic, HOLLOW is the outcome of taking a step back and seeing the world through fresh eyes. With the world going through a period of unknown, it's easy to see the lies and webs stretching out of control.
Cottonmouth had a new writing experience with this single, sending riffs and melodies over the web to write the song in isolation. This then allowed the band to carry on working and being creative when everything else stopped which opened new ideas and new ways of doing things.
https://www.facebook.com/CottonmouthMetal/
Featured  on  Indie  City  2nd  December  2020