Unknown Refuge formed early in 2016 with Alex Mancini, then aged 15 as lead singer, and four friends from the Music and Performing Arts Service in Salford. Within 6 months of forming, theyentered the Salford Battle of the Bands which required one song to be original; this started Alex on his song writing journey. Despite their relatively short time as a band they were crowned winners, gaining a headline slot at Band on the Wall (Manchester) and also bagging a recording session at SSR (Manchester).
The next 12 months saw Unknown Refuge gig locally with the line-up changing along the way asthe band evolved. It was these changes to the line-up that led Alex to pick up the bass guitar and current drummer Morgan Deveney joining, adding a fresh dimension. Unknown Refuge continued to tread the boards locally, predominantly playing covers, allowing Alex to develop his song writing while the band honed their musical style and repertoire.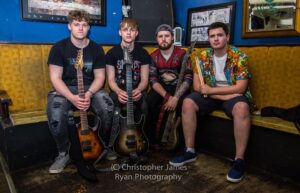 In 2018, they were invited to take part in the TotalRock 'Friday Night Rock Show' at the inaugural Stonedeaf Festival in August. This opportunity gave them fantastic exposure to the wider rock community and won them new fans with their energetic performance. They continued to gig to raisefunds to record their debut album and recruited another old school friend, Jack Tracey (guitar) which saw the line-up they went into recording with. Recently, we have added a rhythm guitar player, Harry Skinner, to complete the full Unknown Refuge Line-up you see today.
https://twitter.com/UNKNOWN_REFUG
https://www.facebook.com/UnknownRefuge/
Featured on  Indie  City   2nd December  2020