Toronto-based alternative hip hop/electronic pop artist Erich Mrak has been excorcising his restless creative energy through a string of new releases, alternate versions, quarantine performances and videos. The latest new single is the hook-infused "No Ways".
Beginning to write lyrics at the age of 7, and recording his first full song at 13, Erich has continued to practice, and refine his sound since an early age. Born in Ottawa, based in Toronto since 2013, Erich's influences come from where he's been, and where he currently is. Over production that is made up of two main genres, pop, and hip-hop.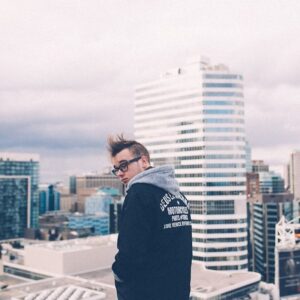 "No Ways" is what happens when you're a drink away from collapsing and spilling your feelings, when you should've said good night and gone home. "No Ways" initially started out as more of a country/pop song, with the guitar being the driving force behind the song. When writing "No Ways", we initially had the second verse reversed. The first 8 bars were the ending and the last 8 bars were the beginning. However after recording it we decided to re-arrange the entire part of the song, and add a baseline.
https://www.erichmrakmusic.com/
http://www.facebook.com/ErichMrakMusic
http://twitter.com/ErichMrakMusic
Featured  on The Kay  Show  2nd  December  2020