Ivan has struggled to transcend the limitations of his working class background. As a steel worker in a dying industry he was often appalled by the blatantly unsafe conditions he and his colleagues were expected to work under. The memory of a workmate screaming in pain after having his hand caught in a faulty machine is just one that has contributed to Ivan's social conscience. The challenges of finding and keeping safe, ongoing employment have given him empathy with those who are displaced or disadvantaged in modern society.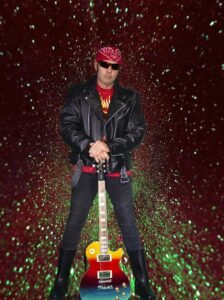 His workplace experiences are also reflected in his music. The lyrics can be angry and political and some are quite dark, while the simple melodies and upbeat rhythms belie the nasty, cynical element. However the mood is not all anger and melancholy – Ivan's marriage to his teenage sweetheart has inspired some happier, more loving songs. Her efforts to find purpose, as well as Ivan's own, have also been the catalyst for several more philosophical offerings.
Ivan has always been a versatile musician. He started out playing the flute, then successively played saxophone, drums, and guitar in various bands, gigging extensively. He then moved into writing and recording original material. As a result of being dissatisfied with the music production that he could afford, and inspired by the independent Do-It-Yourself ethos of underground 70s UK bands such as Sex Pistols, Joy Division and The Clash, he learned how to record, mix, master and produce his own music. This gave him much more creative freedom.
https://ivanbeecroft.wordpress.com
https://m.facebook.com/Ivanbeecroftmusic
http://twitter.com/beecroft_ivan
Featured   Indie  City  24  June  2020