Kittenhead was started in May 2012 in Los Angeles, and is based in California.  Diverse as the band is, as equality as the band's message. Just after releasing thier 1st EP "Derby Girl" which garnered much acclaim and radio play for the title track. "Derby Girl" is currently the skate out music for Roller Derby Leagues around the world from the UK to Australia and across North and South America.,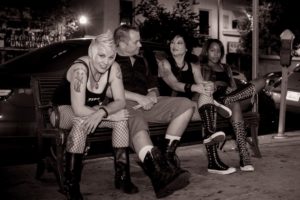 The band went back to a five-piece format, adding its newest member, Daddy Kittenhead , rounding out the  Kittenhead sound. The band is Kiwi Kittenhead on vocals: VJJ Kittenhead on guitar/bass and vocals; Daddy Kittenhead on rhythm guitar and vocals; dd Kittenhead on guitar, bass, and vocals; and O -face Kitten head   on drums, percussion, and beer duty.
Kittenhead released their latest EP, "NYB", a five-song EP with the title track, "Not Your Bitch", which like every punk rock song, is about the current crisis and status of our country.
https://www.facebook.com/KittenheadLA/
https://twitter.com/KittenheadLa
Featured  Indie  City  29th  January  2020