Formed in late 2015, Phoenix and the SilverVoodoos is an emerging  original indie rock band from Asquith, SK Canada.  The band consists of  frontwoman/guitarist Phoenix Christa, guitarist Roland King and drummer Linda King.   Phoenix and the SilverVoodoos' music can best be described as loud and powerful with Roland's heavy guitar, Phoenix's rugged vocals and her grinding guitar licks combined with Linda's engaging beats.  This band's  dark and mysterious sound is sure to please your "rocker" soul.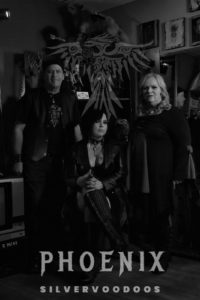 They have been described as having a "Black Sabbath vibe," and have been compared to the "Runaways".   Audience feedback declared Phoenix and The SilverVoodoos "a Rock and Roll revival"! Since releasing their first two live singles in 2018,  Phoenix and the SilverVoodoos have been "Ranked #1" for more than twelve weeks on local NumberOneMusic and Reverbnation.  In 2019 the band released their first official single  "Slip Away",  a Song that was recorded and mastered at Recording Arts Institute  Saskatoon (RAIS).
The band has just released their self titled EP album which includes three new singles "Warrior", "Sick and Twiztid(remastered)" and "I Like It".  Soon after the release of their EP, one of their new singles "Sick and Twiztid" was played on Rock 102 FM Saskatoons HomeTown Rock Radio Show in August 2019.  The release of "Sick and Twiztid" also landed them a feature performance at Manitou Metalfest in that same month.
Among the bands many accomplishments they continue to support March of Dimes Canada, every year since 2015,  as an active participant in their Rock for Dimes charity event.
https://phoenixandthesilvervoodoos.com/home
https://twitter.com/psilvervoodoos
https://www.instagram.com/phoenixandthesilvervoodoos/
Featured  Indie City  29th January  2020