Born in the sleepy fishing village of Steveston (British Columbia, Canada) and born of Dutch immigrant parents, Sandra-Mae Lux was singing almost before she was walking and showed a natural ability with musical instruments even in elementary school, playing piano, saxophone and guitar.
By high school she was already a seasoned performer in jazz and concert bands and, after graduating high school with honours, Sandra-Mae achieved a Bachelor of Music in Jazz Studies on Saxophone with a Minor in Education from Capilano University.  Sandra-Mae has received multiple awards such as Outstanding Achievement in Music five years in a row and the Phil Nimmons Scholarship for Outstanding Achievement in Jazz.
Before she reached the age of 22, Sandra-Mae was invited to perform at the Ottawa International Jazz Festival, two years in a row where she met and performed with many internationally recognized artists such as Joe Lovano, Roy Hargrove, Herbie Hancock, Joshua Redman, Medeski, Martin & Wood, Christian McBride and opened for Dave Brubeck. After a few more years in Vancouver playing with many different bands, Sandra-Mae began to extend her reach to multiple musical styles including pop, R&B, Brazillian, EDM and her true love, 70's soul music.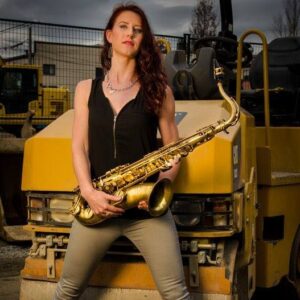 Moving to London, England in 2017 to concentrate on writing her first album, 'Happily Ever Now' Sandra-Mae continues not only to be a creative musical dynamo, but also an acting, voice acting and comedy performer of note, appearing in David Sedaris – The Santaland Diaries, The Comedy Store Players, Slattery Night Fever (with Tony Slattery) and as part of the cast of Audible's 'Aliens – Sea of Sorrows' and Neil Gaiman's 'Sandman' audio dramas (both directed by Dirk Maggs).
Sandra-Mae lives in South London with her partner, lots of plants, a disco ball, and many feathered masks.
https://www.sandramaelux.com/about
https://www.facebook.com/sandramae.lux
https://twitter.com/sandramaelux
Featured  on  The  Kay Show  25th  November  2020