We are not an acid jazz trio. But we are Spar Marta: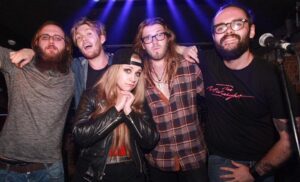 Aleksandrovičiūtė
Luke Wilson
Conor 'Corndawg' Taylor
Sam Liddle
Dan 'Danno' Purvey
A&R Music Factory's review of "Let It Go" from the EP "Spar Marta"
"The progressive soundscape blends blisteringly fierce increments of Metal along with the raucous grind of heavily distorted guitars for the Hard Rock nuances. The cherry on this rhythmic cake is the infusion of Reggae which ensures you've never quite heard a track like this before. The feisty vocals easily match the adrenalized frenzy of the instrumentals, yet, when the momentum is turned down the vocals seamlessly evolve with them to offer sultrily hypnotic harmonics. Let It Go is visceral, it's pioneering, and you'd probably need a significant brain injury to completely wipe this monster of an anthemic earworm from your memory.
https://www.facebook.com/sparmarta/
Featured  Sunday  Selection  11th  October  2020