The Banshees formed in the Autumn of 2018 in Liverpool, England. Formed by Singer/Songwriter Vinny Pereira and Session Guitarist Paul Anthony Holligan. They met at a party in Liverpool through a mutual friend who had been trying for some time to get the pair of musicians to finally meet. After spending all of the evening playing around on two acoustic guitars and talking, the pair decided to form a new band with their own sound, ethos and landscapes about how they see music. Drawing on over 20 years in the music industry, Vinny, who has been in several bands throughout his career, has supported the likes of Chris Helme (The Seahorses) and The Bluetones along with up and coming artists too. He appeared in Roger Appleton's (Looking For Lennon) 'The City That Rocked The World' and has wrote songs for a number of film and TV companies. He has recently been producing and recording music for other artists.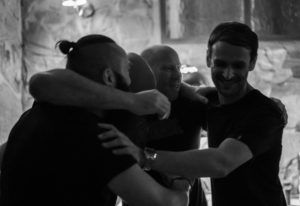 Then there is Paul, who has played Session Guitar for Pete Best (ex Beatles drummer) and was also put forward to Mike Batt (music producer and songwriter) by the late actor John Hurt. He has supported such artists as Noel Gallagher and members of the Manchester band Inspiral Carpets.
The pair decided to finally put their own stamp on what music from the North West of England should be about. Using the natural rhythms and grooves of the Mersey Beat era, with the lavish melodies and grit of the sound scape that naturally came out of what Manchester had to offer to the North West mix.
Then came Stephen. Stephen comes from a family tradition of playing bass. After serving with the British Army, he dedicated his life to music, touring with bands 'The Others' and 'The Pete Best Band' Stephen has supported other artist such as 'Noel Gallagher' and 'The Farm. He brings the unique groove and feel he has on bass to The Banshees.
Last but not least is James. He began learning drums as a young teenager in Liverpool. It wasn't long before his natural talent for his chosen instrument shone through. He enjoyed success early on with various Liverpool bands alongside Banshees lead vocalist Vinny Pereira. Over the last two years, James has really left his mark on the Liverpool music scene and has become one of Liverpool's elite players. As well as session work, he is also a part of the Liverpool football club band who play at Anfield before match day. His unique style of playing drums gives The Banshees a real passionate and driven sound from the core.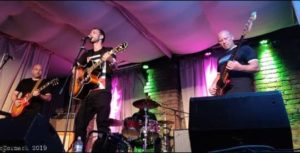 The Banshees are heart , soul, hope and belief that better things are yet to come.  They draw from the root but refuse to stay there. They make songs that quite frankly stick in your head for days, familiar yet new. The Banshees pride themselves on delivery live. They have that magic ability of not just performing a set , but bringing the audience into the world they exist in.  For a band in its infancy but yet piloted by veterans, The Banshees have really created a buzz around themselves in the North West of England, bringing praise from the hierarchy of the Liverpool music scene.
https://www.thebanshees.co.uk/
https://twitter.com/thebanshees1
https://www.facebook.com/thebanshees1/
Featured  Indie City  25th March 2020