"I was just straight-up shooting for Hellacopters and Led Zeppelin. I'm a blues guitarist in a rock band." – Adam McIntyre of The Pinx …Whether or not the above amounts to a confession, Adam McIntyre's declaration of direction amounts to an intriguing version of the Atlanta-based band's trademark duelling guitar sound, as last heard on its third album Sisters & Brothers, released in 2019. That record was critically praised, and rightly so, but maybe a few songs on it made too much of an impression for McIntyre's liking?
"I'm reluctant to ever pick up a slide again," he says, going on to more colorfully describe how much he really believes that statement. Essentially, this time the duels draw blood. But, instead of reading about it, just listen to "Electric!" scheduled for release on Aug. 14th. It's right there where the sex meets the road. An EP in length only, this thing will wear you out in five quick numbers.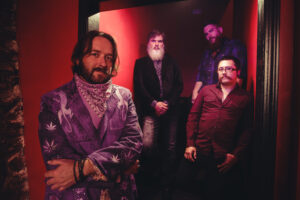 Band  Members
Adam McIntyre: Lead Vocals and Lead Guitar
Chance McColl: Lead Guitar and Vocals
Chuck Wiles: Bass and Backing Vocals
Cayce Buttrey: Drums and Backing Vocals
"We deliberately created the most lean, energetic rock guitar-fest that Chance (McColl, Lead Guitar and Vocals) and I could muster," McIntyre says. "Chuck (Wiles, Bass and Backing Vocals) and brought the thunder to our lightning and I feel like my singing on this EP puts my best rock foot forward. My solos are some of the favourites I've ever recorded, too."
In just the first half of 2020, McIntyre has written and recorded three albums of solo material with varying styles and concepts. He's a blues guitarist when he's not in a rock band, too, as the first of these records The Devil Got My Soul! shows. The third, as-yet-unreleased album "will largely be about becoming nobody," McIntyre recently told hometown paper Creative Loafing, and is "based on Ram Dass's talks on ego vs. identity vs. the soul."
Even with all of this seemingly unending solo music-making going on, McIntyre is also in the midst of writing the fourth full-length Pinx album, which will likely be on the horizon soon if the process for "Electric!" is any indication.
http://Website: https://thepinxrock.com/
http://Facebook: https://www.facebook.com/ThePinxATL
http://Twitter: https://twitter.com/thepinxatl
Featured  Sunday  Selection  25th  October  2020